Honestly and openly approach the child.
Ask -what do you know about the Choking Game (pass out game) 'game'?
Be prepared: Many parents are shocked at the answer.
Explain the dangers to them - they are injuring their brain every time
.

They risk stroke, seizures and cardiac arrest every time - even when they are doing it in a group!


Increase supervision- be aware of your child's activities and whereabouts even to the point of

making an 'open

door' rule.


Your

child's safety is more valuable than their privacy.




Remove any paraphernalia that could be

used as

a

ligature

(belts, scarves, cords, even closet

rods if you

must)




Alert school personnel

(

see the

sample letter

s

)

If one student is

involved,

there

a

re

others




Alert the parents of your children's friends.




Consult with a physician to address any

health

needs that

have

resulted




If an older teen is involved, younger

children in the

same

family

may be at

risk

for

participating

in this

activity

Prevention within your own family begins with an honest discussion about the consequences of participating in The Choking Game.
Remember - 75% of Middle School aged children already know about it - chances are, you are not telling them something they have
not already been exposed to by their peers. The problem lies in what their peers have failed to mention- the dangers. Please also be
aware that children as young as Kindergarten have been reportedly "choked out" emulating an episode or conversation displayed by
an older sibling or neighbor.

Texting: Be on alert for these text symbols ;)/// ;})))

Computer / Cell Phone: Check your child's computer/cell phone for websites containing "Pass Out" or "Choking Game". Also look for
videos created, viewed or uploaded by your child from video sharing sites like MySpace or YouTube. Popular tags are Fainting Game,
Passing Out

Be candid - be honest and be real! Show them the pictures of children who are no longer with their families. Share the "Life After"
stories of children with permanent disabilities after playing and the words of parents now forever grieving the loss of their child. Stress
to your child that the end result of the child participating was preventable.


INTERVENTION

5 minutes of Heaven, 7 Minutes 'Til Heaven,
Accupuncture Game, Airplaning, America
dream(ing), Black out, Black Hole, California
High, Choke Out, Cloud Nine (9), Dream
(Game), Elevator (Game), Fainting game,
Flatline game, Flat liner (Game), Funky Chicken,
Gasp (ing) (Game), Good kids Game, Hang (ing)
(Man) Game, Harvey Wall banger, High riser
(Game), Huff (ing) (Game), Hyperventilating ,
Knock-Out (Game), Lions and Tigers, Pass(ing)
Out (Game), Purple Dragon, Rising Sun, Rush,
Sleeping Game, Sleeper Hold, Snuff (Game),
Something dreaming, Space cowboy, Space
monkey, Speed Dreaming, Suffocation (Game),
Tap Out, Teen choking game, Tingling game,
Twitching Game

Slang for the Choking Game

Terms used for this activity vary greatly
by demographic. Here are some of the
most popular:

PREVENTION



The DB Foundation Inc
.A Non Profit Educational Foundation 501(c)(3) Charitable Organization Status Pending
Note: Information on this website is not intended to take the place of medical advice.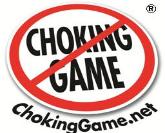 The Dangerous Behaviors Foundation
is a not for profit organization advocating
awareness and education of dangerous adolescent behaviors.